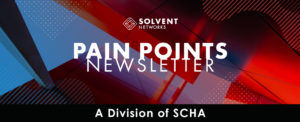 Welcome to "Pain Points," an e-newsletter from Solvent Networks intended to discuss the problems that keep hospital leaders up at night and inform them about programs, services and products offered by our partner companies that can help. Every two weeks, we tackle one pain point and present a ready-to-deploy Solvent Networks solution.
Here are the Pain Points that generated the most interest in 2019. Contact us for more information on these and other endorsed partner solutions, and let us know how we can help you in 2020.
Pharma Waste
New federal regulations intended to keep pharmaceutical waste from entering waterways took effect in 2019. If you're still working to make sure your facility is in full compliance, Stericycle can help. A thorough formulary will identify what you currently have in your pharmacy and how you should properly dispose of it. Stericycle RX Waste Services clients receive a formulary as part of their service. Check out Stericycle's on-demand webinar and FAQ.
Chasing Workers Comp Claims
The complexities of workers compensation claims can eat up a lot of staff time or lead hospitals to write them off as bad debt, but the team at Park Dansan can turn losses into revenue. They're experts at collecting workers compensation reimbursements, so call them before writing off a claim. As this case study shows, Lexington Medical Center saved the equivalent of one FTE by collaborating with Park Dansan.
Digital Physician Recruitment
The largest pool of physician candidates consists of people who aren't actively looking for a job but would be open to the right opportunity. So, if you're posting on traditional job boards and sending direct mail to practices, you're probably wasting money. To find passive candidates, you have to go where they are: online. Social and digital media are quickly becoming the mainstay of a physician recruitment strategy. Watch this on-demand webinar to learn more.
SunRX Revenues Fuel Turnaround
Like many small, rural hospitals, Abbeville Area Medical Center (AAMC) serves a community that is struggling economically, and that translates into a high rate of charity care. Their partnership with SunRx to implement a 340B discount drug program is now generating revenue that CFO Timothy Wren calls "lifeblood of the hospital." SunRX helps hospitals navigate the complex regulatory steps to determine if they are eligible, establish the program and maintain compliance. Learn more from this case study.
Population Health: Why and How
Population health management improves patient outcomes and helps providers maximize revenue by providing the right care in the right location at the right time, but setting up a process takes time and expertise. Wellspring Benefits Group specializes in programs to bridge the transition between traditional fee-for-service and value-based, coordinated care that can include well visits, education and behavior modification, chronic care management, remote patient monitoring and telehealth services. View this on-demand webinar for more information.
Tools to Fight the Opioid Crisis
Collaboration is an effective tool for fighting the opioid crisis, according to Collective Medical. Their information platform, known as EDie, collects and shares patient-specific data from a nationwide network of facilities, insurers, providers and other partners, which allows it to flag high-risk, frequent-user patients who travel from hospital to hospital, even from state to state, in search of narcotics. Watch this webinar for details.