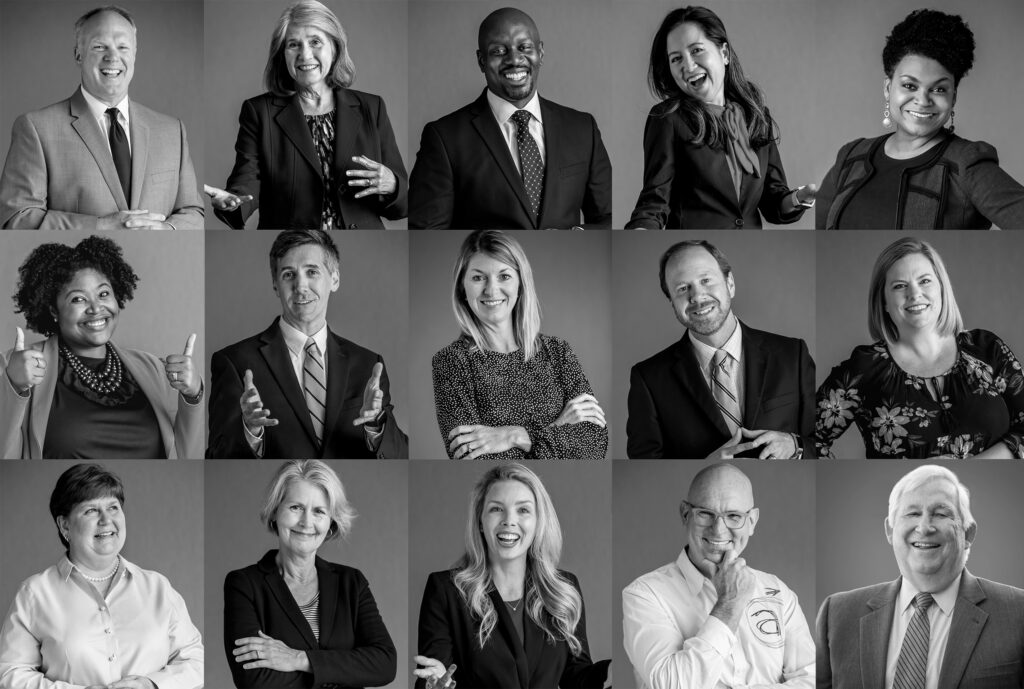 There are professional speakers and then there are professionals who speak.  The SCHA Speakers Bureau is the latter.  Our speakers make things happen.
Healthcare is changing at the speed of light. Keeping up with best practices and real-world problems and solutions is nearly impossible.  Let us bring the front-line experts to you to discuss the biggest issues impacting healthcare in our state.
The SCHA Speakers Bureau is a member service offering educational and professional development programs, healthcare market insights and best practices in many critical hospital operations. All speakers are subject-matter experts and thought leaders, with resumes documenting years of front-line experience in the topics they present. In other words, they don't just speak: They do.
Priority for speakers will be given to South Carolina hospitals, health systems and SCHA professional membership groups, but we welcome requests from other organizations interested in a better state of health for South Carolina.
Whether you're looking for continuing education, staff seminar events amid this pandemic, or developing strategic plans for the post COVID-19 world, knowledge is crucial.
Current topics include:
Advocacy in Healthcare – As the primary voice of the hospital community in South Carolina, SCHA plays a central role in influencing the public policy environment at the state level. We seek to promote responsible public policy, encourage public accountability, and foster an appropriate balance between those who provide and those who pay for health care services.
Pandemic Politics – So, what do you do when a public health emergency makes your advocacy plan more important than ever, but an infectious disease is keeping you from in-person meetings?

Medicaid 101 – More than 70 million Americans – including more than one million South Carolinians – receive their health coverage from Medicaid or the Children's Health Insurance Program.  Costing $600 billion each year, these programs are crucial to the care of children and persons with disabilities, along with the treatment of substance abuse and behavioral health conditions.  Learn more about the basics of Medicaid so you can be prepared to participate in the ongoing debate over its future.

Be Careful What You Wish For – Decades of polling data and election results show that American attitudes are changing when it comes to how our healthcare system should work – particularly when it comes to the role that government should play in financing or even providing that care.  What do these evolving opinions mean for the future of U.S. healthcare reform?

Managing the Metrics that Drive Healthcare in SC – Data drives everything SCHA does, from advocating for hospitals at the State House and improving patient safety to developing a robust workforce and cultivating community health. In the complex, rapidly evolving world of healthcare, it is more important than ever to be attentive and responsive to what the numbers can tell us.
Preparing for the Worst: Emergency & Crisis Management – South Carolina's hospitals care for people at all times and under all conditions. From natural disasters to human-made crises, our patients count on us to be prepared.
Empowering Change Through the Community – Engaging local communities in their well-being is key to  driving long-term change. This presentation explores Community Health Improvement through implementation of the Collective Impact model at the local coalition level. Many voices pointed in the same direction and understanding what steps are needed to improve a local community creates an environment of shared leadership and accountability with successes in decision-making, stakeholder engagement and collaboration that leads to healthier communities. Attendees will learn the tools, templates and processes that the Technical Assistance team utilizes to partner with communities in improving their health and wellness.
Going Upstream for Sustainable Impact – Population Health and Community Health goals cannot be realized without unique and innovative ideas to address complex problems. This presentation shares a wide range of efforts focused on the Social Determinants of Health which include a statewide collaborative and projects on specific areas such as health literacy, obesity prevention and addressing health disparities.  Learn more about SCHA initiatives and collaborations with other partners in South Carolina. One example is the Social Determinants Collaborative, which serves to increase the use and standardization of ICD-10 Z codes allowing hospitals to better track and identify solutions to improve the health of their communities. Attendees will be provided with ideas for engaging stakeholders, identifying potential projects and developing frameworks for addressing complex problems.
Get the Buzzz on Team Building and Leadership Themes – Bees can teach us a great deal about teamwork and leadership. Successful teams work together towards common goals. Bees carry out this effort virtually flawlessly for their entire life. In this presentation a certified beekeeper lends an interesting slant on these topics by drawing correlations and lessons learned from the integral workings of a successful hive. Ideal for launching new teams, re-energizing existing teams, accepting new leadership and helping team members understand their value at every level.
Quality & Patient Safety. Period. – We are committed to helping South Carolina hospitals be some of the safest healthcare facilities in the world. Examining the current culture of your organization is key to becoming a more highly reliable organization. SCHA has a Blueprint designed to assess, educate and chart the course for transformation for any size organization. Interactive sessions allow leaders to explore possibilities that range from understanding what it means to adopt Just Culture principles to developing SMART goals that drive systemic change to plotting a course to achieve Zero Harm status. Sessions can be customized based on organizations need and desired goals. Ideal for meetings with hospital leadership, board and senior staff.Learn more about SCHA initiatives with a focus on quality improvement, as well as QI collaborations with other partners in South Carolina. Efforts range from purposeful reductions in hospital-acquired infections, stroke mortality, and out-of-hospital cardiac arrest. Other topics focus on improving surgical quality safety, care transitions, health outcomes for all moms and babies, along with ensuring all newborn screening specimens are tested within 24 hours of a blood draw. Ideal for hospital staff who focus on improvement efforts within their hospital and community.
Committed to Workforce  – A hospital, health system, or clinic is more than a physical location where people seek care. They are places filled with the healthcare professionals that care for our communities, day in and day out. These healthcare professionals have a profound impact in our communities and healthcare leaders should have a workforce strategy that focuses on building the pipeline of new professionals, recruiting for new talent, investing in the needs of current employees, and providing safe work spaces. Let us help you recruit, retain, and care for the individuals who keep our healthcare system running. If you're looking for ideas, strategies, or best practices related to your workforce, contact us and we can customize a message that helps develop and inspire creativity in your leaders and teams.
Working Well for a Thriving Workforce – Multi-dimensional leadership and organizational strategies for wellbeing, the business case, burnout and resilience, mindset for performance and leadership, engagement strategies, operationalizing wellness and healthy community connection.
When, Why and How to Give your Brand a Makeover –

The five signs that it's time for a rebrand, the keys to effective branding, the two questions your brand should answer, and insights from SCHA's recent brand development successes.
Branding, Design, Creativity. – We are all creative and we just need some techniques to get off the starting blocks.
Embrace Life. – A motivational talk about finding hope and living again after the death of his 12-year-old son, Luke. And after caring for his daughter Felicia who also passed away after a life-long battle with muscular dystrophy.
Your Life Plan. – Where have you been? Where are you now? And what do you want? With this workshop, you can discover yourself and what you want the future to look like. Many people spend more time planning a trip than they do planning their life. Let's set a plan and aim for a better life.
Click HERE for speaker bios and photos!