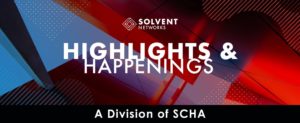 Cedar Gate helps Franciscan ACO improve performance by $44.4M
Cedar Gate Technologies, a leading value-based care analytics company, and Franciscan Alliance, a faith-based, integrated healthcare provider, announced that their collaboration has resulted in Franciscan Alliance improving the performance of its Franciscan ACO (Accountable Care Organization) by $44.4 million in 2018, as compared to 2016.
Cedar Gate, a Solvent Networks endorsed partner, is a collaborative partner to payers, providers and employers and provides the analytic insights and operating systems to help them make a successful transition from fee-for-service to value-based care. Contact us to find out how they can help improve your numbers.
Jackson Physician Search: How to start "the retirement conversation" with physicians
Jackson Physician Search has published a white paper on how administrators should approach "the retirement conversation" with physicians who are nearing retirement age. The paper is based on a survey of more than 500 physicians and 100 hospital administrators. Here are some of the key findings that can help administrators prepare for transitions.
· Physicians' drivers for retirement include lifestyle, financial stability, burnout and frustration with the current state of medicine.
· Physicians feels it's their responsibility to initiate the retirement conversation, but they are less comfortable doing so than administrators.
· Physicians and administrators have vastly different opinions about the ideal retirement timeline.
· Administrators assume physicians will retire fully, but many of them plan to work elsewhere.
Read or download the white paper in our online newsroom.
Collective Medical introduces enhanced clinical capabilities at point of care
Collective Medical has partnered with Kno2 to enable physician and clinical care team members access to clinical insights at the point of care. Collective announced the partnership and the enhanced functionality to support and supply clinical care teams with clinical decision support data that was previously difficult to source.
With the new technology, this enhanced clinical data will be accessible within the Collective platform enabling greater workflow automation, high value point of care insights, and enhanced analytics to drive outcomes. According to a study by Health Affairs, inadequate care coordination, which includes care transitions, is responsible for $25-45 billion in wasteful spending. Seamless care transitions and real time visibility into patient movements and care decisions are critically important to improve patient outcomes, eliminate duplication, and reduce costs.
Collective Medical, a Solvent Networks endorsed partner, is a network of providers and health systems working to identify high-risk, at-risk, or complex patients and to develop collaborative, actionable care coordination plans to improve patient outcomes.
Bookmark SolventNetworks.com/newsroom to keep up with endorsed partner news, view Thought Partner webinars on demand, and access white papers, insights reports and other informative resources. And contact us anytime to see if we can help.