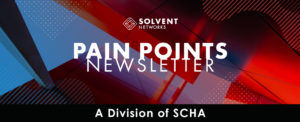 PAIN POINT
Are we ready for new federal regulations on pharma waste?
SOLUTION
Stericycle can help you figure it out.
Just a reminder (as if you didn't know): New U.S. Environmental Protection Agency regulations intended to keep pharmaceutical waste from entering waterways will take effect August 21. If you're still working to make sure your facility is ready, we have some resources that can help.
Chuck Wilson, Stericycle sales solution executive for healthcare compliance solutions, recently presented a Solvent Networks Thought Partner webinar covering what SCHA member hospitals need to know about the new rules, starting with the fact that until the new rules go into effect, hospitals should continue to follow current EPA guidelines as applies to Resource Conservation and Recovery Act (RCRA) hazardous waste. The webinar is one of many valuable resources available on Solvent Networks.com.
You can also download Stericycle's "Frequently Asked Questions" from the Solvent Networks website or submit questions directly to the company at EPANewRules@Stericycle.com. Wilson said it's vital that every facility understand what is currently in its pharmacy, whether items are characterized as hazardous or not. A thorough formulary should be completed "so that there is no doubt about what you have and how to properly waste it." All Stericycle Rx Waste Service customers receive their characterized formulary as a vital part of their service. These are updated whenever the healthcare facility brings new drugs into their pharmacy or at the request of a Stericycle Compliance contact after their annual review.
Stericycle is an endorsed partner of Solvent Networks, which means the company has been thoroughly vetted for quality, value and customer service. To initiate new service with Stericycle or review your current contract to see if you would benefit from additional service offerings, contact us today.
To learn more about Stericyle and other ways Solvent Networks can help cure your pain points, visit SolventNetworks.com.