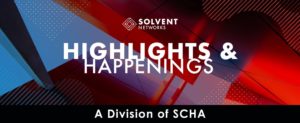 Stericycle honored for gender parity and workforce diversity
Stericycle was recognized by the Women's Forum of New York for their commitment to advancing gender parity in the boardroom. The honor was announced during the Breakfast of Corporate Champions, a biennial event that brings together more than 600 thought leaders and change-makers, including CEOs, board directors and government officials, all bound by the same common goal – achieving 50/50 gender parity in the boardroom by 2025. Stericycle's CEO, Cindy Miller, represents Stericycle in accepting the honor at the breakfast. With a corporate board composed of 40 percent women, Stericycle exceeds the national average for female-held board seats, which is currently 23.4 percent.
Stericycle provides coverage for a significant portion of medical waste streams and helps hospitals be at the forefront of "going green." The company was recently chosen by Lexington Medical Center to manage controlled substance waste.
Vizient ranked 3rd among healthcare management consulting firms
Vizient's Advisory Solutions consulting group was ranked 3rd among 43 firms in Modern Healthcare magazine's annual survey of the largest healthcare management consulting firms. Last year, Vizient was ranked 5th. According to a Business Wire press release, Modern Healthcare's 2019 Healthcare Management Consulting Firms Survey includes management consulting firms from the U.S. in various sectors of the medical industry. Survey results are compiled to create the annual list, and final rankings are based on 2018 revenue from total health care consulting fees.
Vizient uses its combined capabilities in sourcing, analytic, advisory and collaboration services to connect its members with the knowledge, solutions and expertise that accelerate performance. Vizient's solutions framework is designed to ensure its members are positioned to deliver exceptional, cost-effective care.
Guide to the Network available online
Learn more about all Solvent Networks endorsed partners in our new Guide to the Network, available for download in our online newsroom. You'll find descriptions of solutions and services offered, contact information and case studies of how partners have helped S.C. hospitals improve productivity, reduce costs or generate revenue. It also outlines the vetting process used to ensure that our industry-leading partners offer proven solutions at the best possible prices. We do the research, vetting and contractual negotiations needed to give you assurance that they will meet your standards of quality, value and customer service. Contact us to learn more about how our network can help address your workforce, operational, financial and compliance pain points.