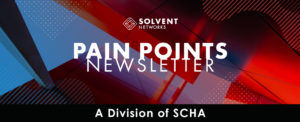 Welcome to "Pain Points," an e-newsletter from Solvent Networks intended to discuss the problems that keep hospital leaders up at night and inform them about programs, services and products offered by our partner companies that can help. Every two weeks, we tackle one pain point and present a ready-to-deploy Solvent Networks solution.
PAIN POINT
We don't have the technology and expertise to manage direct-to-employer contracts.
SOLUTION
Let Cedar Gate handle the heavy lifting. You focus on how to invest the savings.
Direct-contracting arrangements let employers with self-funded insurance plans negotiate bundled payments with hospitals and health systems, helping them maximize cost-savings and giving provider organizations more flexibility in treatment plans, which can reduce costs and improve the quality of care. Such contracts are considered the "new norm," a way to speed the transition from fee-for-service to value-based care.
But there are financial risks if treatment costs or patient outcomes don't meet performance benchmarks. Plus, direct-contracting arrangements are complex and heavily dependent on technology, data and analytics. Many hospitals turn to experts such as Cedar Gate, a leading value-based care performance company and Solvent Networks endorsed partner, to design, build and operate the system.
"We provide high-performance analytical capabilities and operating systems to enable providers to exceed the performance thresh-holds," said Tabitha King, Cedar Gate's director of client management. "We create, administer and operate bundled payment programs for high-frequency, high-cost episodes of care."
In a recent Thought Partner webinar, King used total knee replacement as an example of how the system can work. By adding continuum of care components such as physical therapy and pain management, hospitals can shift inpatient care from 90 percent to 60 percent of the total treatment. Reduced hospital revenues are more than offset by cost savings, since inpatient care represents the highest cost.
King quoted Seema Verma, CMS administrator, who said, ""Value-based payment is the future. If your model is focused merely on increasing volume rather than improving health outcomes, coordinating care and cutting waste, you will not succeed under the new paradigm."
Cedar Gate has built a value-based care performance analytic platform, ISSAC, which stands for Intelligence System for Advanced Analytic Computing. It serves the needs of providers, payers and self-insured employers who want to reduce financial risk and achieve greater success under these new payment and delivery contracts.
To learn more or schedule a call or visit, please visit Solvent Networks or contact Jamie Dye with Cedar Gate at james.dye@cedargate.com.