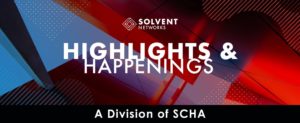 Vizient announces 16 new member agreements
Vizient Inc., already one of the nation's largest healthcare management consulting firms, recently announced new, renewed or expanded member agreements with 16 healthcare organizations, including academic medical centers, community hospitals, integrated health delivery networks and non-acute health care providers. These new agreements add to Vizient's contract portfolio that represents more than $100 billion in annual purchasing volume, which helps lower costs for its members.
"Providers nationwide are looking for ways to mitigate financial pressures. Vizient offers a unique array of services, expertise and technologies that can help them meet their savings and clinical goals," said Rand Ballard, chief customer officer for Vizient.
Stericycle partnering with NSC to fight opioid abuse
According to a National Safety Council (NSC) survey, three out of four employers have been directly impacted by the opioid crisis, and yet only 17 percent indicate they feel extremely well-prepared to deal with it. As part of its continuing commitment to safety, Stericycle is partnering with the NSC to build awareness around the opioid crisis and provide practical solutions for addressing it. A key focus is The Opioids at Work Toolkit, which empowers employers to fight the opioid epidemic in the workplace. The free toolkit is designed to assist employers and businesses in creating a robust, drug-free workplace policy and support system, helping to keep workers safe. It includes educational tools for human resources professionals, supervisors and employees, such as fact sheets, posters, safety talks, videos and case studies on how other employers are approaching the problem.
SUNRx announces dates for 2020 340B Pharmacy Academy®
SUNRx offers a series of monthly webinars to provide information and answers on implementing and managing a 340B discount pharmacy program, which helps participants provide discount prices for uninsured or under-insured patients and generate revenue that can be reinvested in healthcare. Dates have been announced for the 2020 Pharmacy Academy, a continuing education program for network pharmacies, prospective pharmacies, covered entities and other 340B stakeholders.
Each seminar features 340B experts and covers:
• Introduction to SUNRx 340B pharmacy administration
• Inventory management
• Virtual inventory reports
• Invoices and payments
• True-ups, accounting and cash management
Early 2020 webinars are scheduled for February 12 and March 25, 12 p.m. ET. Click here to sign up for updates and registration information. Or contact Solvent Networks to learn more about SUNRx and the 340B program.