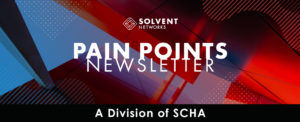 Welcome to "Pain Points," an e-newsletter from Solvent Networks intended to discuss the problems that keep hospital leaders up at night and inform them about programs, services and products offered by our partner companies that can help. Every two weeks, we tackle one pain point and present a ready-to-deploy Solvent Networks solution.
PAIN POINT
Risk of an information breach keeps me and my legal counsel awake at night.
SOLUTION
Call Stericycle's Shred-it Solutions and rest easy.
The average cost of an information breach can exceed $7 million in litigation, fines and damage to reputation and customer loyalty, and the most common cause of a breach is mishandling of confidential information. When you consider all the confidential information a hospital maintains – medical files, legal files, employee records, billing and patient financial transactions – the risk is real.
"This year alone, $22 million has been handed out in federal fines for HIPAA non-compliance," according to Brian Magner, Shred-it's district sales manager. "Two of the incidents were in our backyard."
Shred-it, a division of Stericycle and Solvent Networks endorsed partner, can provide secure monitoring and destruction of documents that contain consumer information including documentation of the chain-of-custody. Documented proof of processes is central to compliance with HIPAA and the Fair and Accurate Credit Transaction Act.
Shred-it can provide both off-site destruction at their facility which has 24/7 high-end security, key card access and camera surveillance with 90 day-recording, or on-site destruction at your facility using a mobile truck with a live monitor so that your staff can watch the documents being destroyed.
Shred-it goes beyond industry standards. They provide certification of destruction and partner with companies to recycle 100 percent of shredded paper to help reduce your carbon footprint. They'll provide a green certificate to show how many trees, gallons of water or energy you saved. Shred-it can also securely destroy pill bottles, X-rays, MRIs, expired medication containers, medical recordings, sharps and computer hard drives.
For more information, watch Shred-it's Thought Partner webinar on-demand on our website, or contact the team at Solvent Networks to set up an onsite business review.