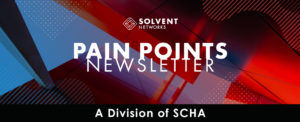 Welcome to "Pain Points," an e-newsletter from Solvent Networks intended to discuss the problems that keep hospital leaders up at night and inform them about programs, services and products offered by our partner companies that can help. Every two weeks, we tackle one pain point and present a ready-to-deploy Solvent Networks solution.
PAIN POINT
Vacancy and turnover rates, especially among nurses.
SOLUTION
Learn more so you can do more to recruit and keep top people.
Recently, SCHA staff conducted on-site meetings with every hospital in the state to learn more about your needs and how we can better serve them. You and your teams offered candid and valuable information about your "pain points," the thorny issues you face every day. Topping the list were the rising vacancy and turnover rates, especially among nurses.
We heard you, and we're responding. With funding from Solvent Networks, SCHA conducts an annual compensation survey and study of vacancy and turnover rates for positions identified as top priorities, and it gathers data specifically on retention of registered nurses. The information is being synthesized into a series of workforce intelligence reports to help you understand your position relative to peers and develop a strategic workforce plan. Click here to read the first report.
The Solvent Networks consortium of endorsed partners includes a number of companies that can help.
Qualivis, our workforce solutions partner, has increased service lines to include permanent, temp-to-perm, locum tenens, critical and rapid response, per diem and international nurses as well as supplemental nurses. Attend an on demand Thought Partner webinar for a best practice primer and market update on locum tenens trends.
Jackson Physician Search is highly effective in recruiting physicians who aren't looking for a new job. They're industry leaders in digital recruitment strategies, as recently outlined in a Thought Partner webinar available on demand.
HospitalCareers.com is a national recruiting network that offers online tools to recruit and evaluate prospects and the ability to post an unlimited number of positions, as recently explained in a Thought Partner webinar available on demand.
For more information on these or other partners, visit our partners page or contact us directly.