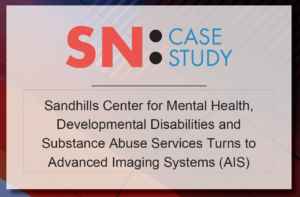 Sandhills Center, a behavioral health system in North Carolina, turned to Advanced Imaging Systems (AIS) to guide them through a "perfect storm" of records management challenges – hundreds of thousands of documents past their retention window, files in different places and formats, records inherited from other offices, and an increase in requests for documents for concealed weapon permits. The AIS team helped Sandhills save the equivalent of two full-time employee labor costs, reclaim 12,000 cubic feet of storage space, and avoid costs of $1.6 million by determining that only 26% of their records needed to be scanned. Read the full case study HERE.
AIS, a Solvent Networks endorsed partner, can do the same for you! The best part…we've already negotiated the best prices for our South Carolina Hospital Association members.
As a division of SCHA, our mission at Solvent Networks is to serve members by providing solutions to "pain points," those day-to-day operational problems and challenges that come with running a top-quality healthcare facility.
The Solvent Networks Seal of Approval, backed by SCHA, assures that our endorsed partners meet the highest standards for quality, customer services and value.
Interested in learning more? Call Kristin Hill at 803.454.6959, email khill@solventnetworks.com or visit SolventNetworks.com