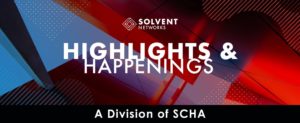 Qualivis adds Ohio Hospital Association
Qualivis, a Solvent Networks endorsed partner for workforce solutions, recently announced it has agreed to acquire the Ohio Hospital Association's workforce solutions program, and it expects to close on December 1, 2019. The move gives Ohio hospitals access to the same market-leading, robust software tools, streamlined staffing processes and vendor-neutral network of agencies already available to South Carolina hospitals. Contact us to find out more about how Qualivis can help solve your workforce pain points.
HospitalCareers.com offering year-end discounts
The nation's most cost-effective healthcare recruiting tool just got even better. During a recent Thought Partner webinar, HospitalCareers.com Strategic Director Brian Bauer announced that discounted rates are available for stand-alone hospitals through the end of December. Systems may contact the company about tailored rate enhancements. HospitalCareers.com, a Solvent Networks endorsed partner, is a national recruiting network with online tools to recruit and evaluate prospects for a wide variety of healthcare positions. For a flat annual fee based on a hospital's number of licensed beds, hospitals can post an unlimited number of jobs. Contact us to learn more about this short-term offer.
Solvent Networks sponsors Clemson career event
A Clemson University annual event to help aspiring healthcare professionals connect with and learn from alumni employed in healthcare was sponsored this year by Solvent Networks. By sponsoring the 5th annual Tigers on Call: Making Connections in Healthcare event, Solvent Networks is helping support SCHA priorities, including building the pipeline of future healthcare staff and providers.