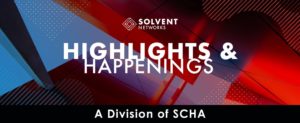 A new year, a new decade, a new brand for SCHA
The S.C. Hospital Association unveiled a new look at last week's opening session of the 2020 Annual Meeting. Today, SCHA is providing more support than ever to South Carolina and its hospitals through leadership in advocacy, innovation, collaboration and acceleration of ideas to action. To accurately reflect this progressive work and improve engagement with you and other stakeholders, SCHA is launching a new brand, a revamped website and other enhanced communications tools. Learn more from this new video or visit SCHA.org.
Jackson Physician Search Offers Political Season Assessment
With a new legislative session getting under way and elections on the horizon, Jackson Physician Search has summarized some of the key federal policies and politics that may impact physicians and hospitals, including legislation to address the physician shortage, the continued transition to value-based care, consumerism and the election. The paper is a quick read with links to more in-depth studies and reports.
Collective Medical Helps Hospital Reduce Opioid Deaths by 32%
The Community Hospital of Monterey Peninsula, a 225-bed hospital in California, used Collective Medical's real-time, patient-specific notifications technology as part of a comprehensive program to combat its opioid crisis. The collaborative care tool delivers key information about a patient's medication prescription histories to the care team, which can look for alternatives for pain management or drug abuse interventions. The comprehensive program has produced a 32% reduction in opioid deaths and a 59% reduction in emergency department visits. Learn more in this case study.
Contact Solvent Networks to set up a meeting with any of our endorsed partners, and put their solutions to work for your facility.