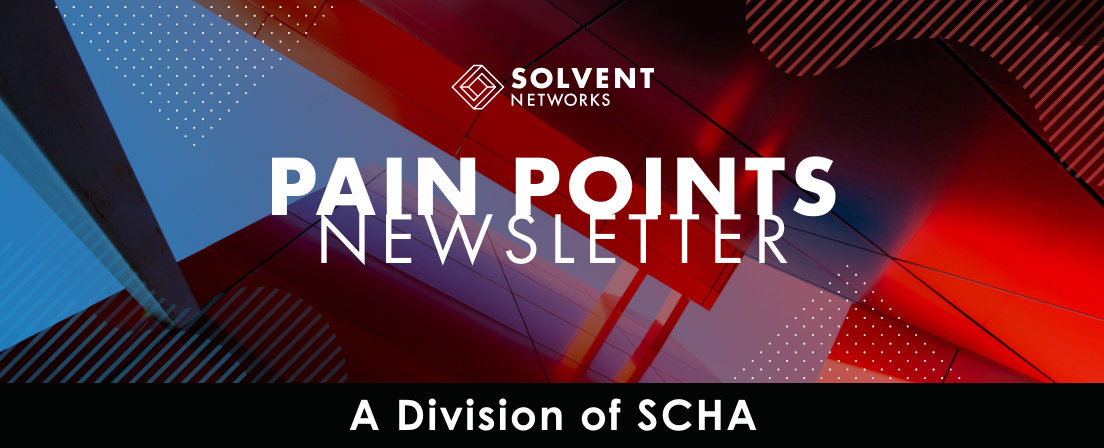 Welcome to "Pain Points," a newsletter from Solvent Networks intended to discuss the problems that keep hospital leaders up at night and inform them about programs, services and products offered by our partner companies that can help. We tackle pain points and present ready-to-deploy solutions.  For more information, visit Solvent Networks, follow us on Linked In or watch our video HERE!  Please also continue to monitor SCHA's COVID-19 webpage for the latest updates.
Pain Point: How can we avoid another PPE shortage?
Solution: PPE Exchange: the "Amazon" for PPE and supplies.
In the beginning of the COVID-19 response, hospitals and other provider groups struggled to procure personal protective equipment and disinfecting products as global demand outpaced supplies. With support from SCHA, the S.C. Manufacturing Extension Partnership, the S.C. Department of Commerce and SC BIO, we're pleased to announce PPE Exchange, a national, FDA-approved, automated resource for PPE and other supplies.
The online marketplace allows hospitals, providers and businesses to connect virtually to more than 200 verified regional and national suppliers of PPE and other products. Buyers can search for items, compare prices, schedule orders and complete the transaction online. Think Amazon, but for PPE and supplies. There is no fee or subscription for buyers.
Benefits of sourcing supplies on PPE Exchange include:
Support technology built on blockchain that allows you to track the transaction from placement of order to delivery;
Ability to source from S.C.-based suppliers;
Ability to price shop across numerous suppliers;
Processes for aggregate or bulk ordering for providers who typically don't meet required volume minimums;
A "request a quote" feature to compare current pricing with other suppliers.
To access the SCHA marketplace on PPE Exchange, visit https://www.ppe.exchange/ click "request access." Enter your email and basic information, and you'll receive an email prompting you to reset your password and login to the website.
For any questions on large orders, or how PPE Exchange can work directly with you, contact SCHA's dedicated Account Executive James Losole at james.losole@ppe.exchange or Beth Morgan at bmorgan@scha.org. PPE Exchange is a Solvent Networks endorsed partner.