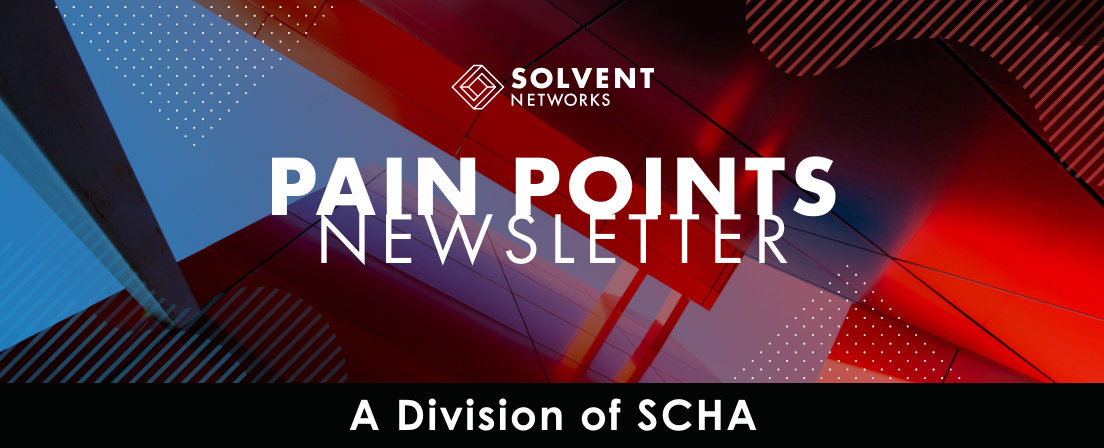 Welcome to "Pain Points," a newsletter from Solvent Networks intended to discuss the problems that keep hospital leaders up at night and inform them about programs, services and products offered by our partner companies that can help. We tackle pain points and present ready-to-deploy solutions.  For more information, visit Solvent Networks, follow us on Linked In or watch our video HERE!  Please also continue to monitor SCHA's COVID-19 webpage for the latest updates.
PAIN POINT
How can I recruit a new physician in the middle of a pandemic?
SOLUTION
Let Jackson Physician Search do all the legwork.
As CEO of a small hospital, Lari Gooding wears a lot of hats and handles a lot of duties, including staff recruitment. He knew that replacing a retiring physician in the middle of a pandemic would offer some new challenges. "When you can't have a meal at a restaurant or hold a group meeting, it's a little more complicated," the Allendale County Hospital CEO said.
Fortunately, he knew who could help. Jackson Physician Search, a Solvent Networks endorsed partner, effectively whittled qualified candidates down to a few that matched his needs and fit the hospital culture, cutting the need for phone calls, meetings and tours to a minimum.
"I've been recruiting in some capacity for over 20 years, and I used to think contingency search was the way to go," he said. "But I would get so many CVs from people who didn't match our needs that I wasted a lot of time making phone calls," he said. "Now I'm a believer in retained searches, and Jackson is the only one I use anymore."
The process starts with a phone call to Gary Holden, Jackson's regional vice president, who assigns a recruiter with the background and contacts that match what the hospital is looking for. Collectively, the company's team has more than 125 years of physician recruitment experience.
"Different recruiters work in specific areas, such as primary care, internal medicine, ER or specialty fields," Gooding said. "The recruiter and I will discuss the position and schedule an on-site visit to learn more about the facility, the community and the team." The recruiter then develops a packet with all the details a physician needs to decide if it's the right fit. That short-circuits the process considerably.
"We're a small, rural hospital in one of the most under-served areas in the state, so it's not going to be right for everyone," Gooding said. "Jackson does a good job of matching the candidate and the position, and I'm sure that would be the same for larger hospitals in urban areas." Located in one of the least populous counties in the state, ACH is a 25-bed critical access hospital, federally designated as an essential access facility for rural, under-served areas. It also owns and operates two rural health clinics and a skilled and intermediate care facility.
Matching physician interest with hospital needs is a standard part of the Jackson process, and they make it a point to understand different hospital cultures. The company recently conducted a national survey of physicians and administrators in rural hospitals to learn what motivates doctors to choose those locations. While compensation is important, the survey found that physicians also valued a patient-focused culture, teamwork, a family-friendly environment and participatory decision-making. Engagement of the CEO in the recruitment process can also be an influential factor. The survey is available in the Solvent Networks online newsroom.
For more information about Jackson Physician Search, contact Gary Holden.