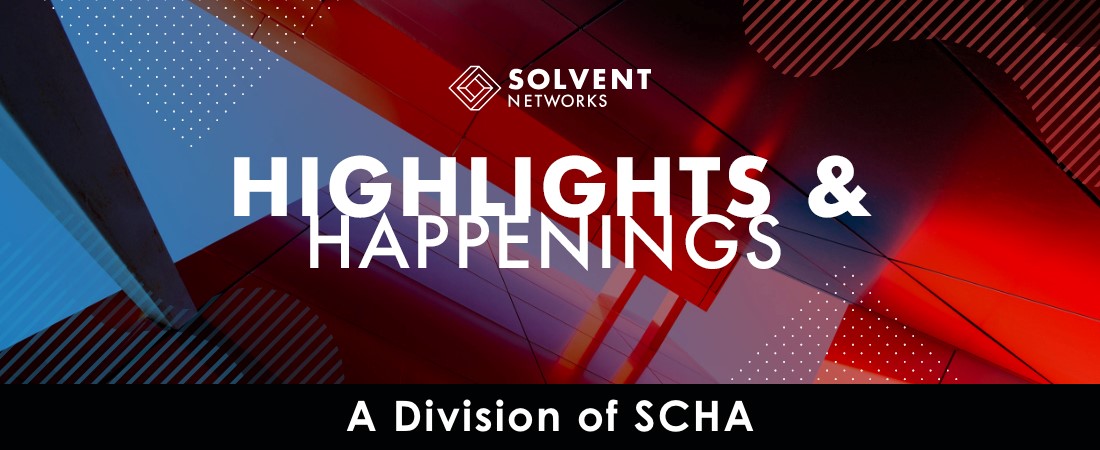 We're still here, ready to help. As a division of SCHA, Solvent Networks is committed to helping our hospitals and health systems respond to COVID-19. This issue offers solutions that may help hospitals maintain continuity of operations. Please also continue to monitor SCHA's COVID-19 webpage for the latest updates.
Supplier Payments During a Crisis
Now more than ever healthcare providers are seeking supplier payment strategies to help overcome the unprecedented financial challenges from the coronavirus pandemic. CommerceHealthcare, SCHA corporate sponsor and endorsed partner of Solvent Networks, sympathizes with healthcare finance leaders who must manage through this complex and multifaceted situation.
You're invited to join an upcoming webinar on May 28 at 2:00pm. It will cover supplier payment best practices and strategies leading healthcare organizations are utilizing to successfully respond to COVID-19. Hosted by CommerceHealthcare's National Solution Consultant and featuring a former healthcare CFO, the agenda will cover the following:
• Minimizing the impact of revenue loss
• Creating a more flexible workflow and workforce
• Reducing paper processes to foster a safer environment for patients and staff
Register for the webinar by clicking HERE.
Keeping Patients Informed
With patients turning to hospitals now more than ever during this crisis, how are you helping to keep patients informed while not creating additional workload and outreach for physicians and staff?
To help hospitals tackle this growing challenge, Flywire, corporate sponsor of SCHA, has introduced a FREE COVID-19 Chatbot to the market. Now you can provide patients with real-time, round-the-clock answers to their most pressing concerns without having to over tax your resources.
To learn more about this FREE solution and other ways Flywire can support you during this national crisis, email Justin McCloud.
Lower Energy and Maintenance Costs
Vivid Energies, endorsed partner of Solvent Networks, can help cut energy costs and enhance security through indoor and outdoor LED lighting solutions. Replacing fluorescent lights with LED bulbs can save up to 70 percent of energy costs for lighting and HVAC, since LEDs emit less heat than other bulbs. LED bulbs are known to last 25 times longer than incandescent, which can lower maintenance costs. Email Kristin Hill and we'll set you up with Stuart Lenning for a FREE consultation.
Supply Chain Resilience
Vizient, SCHA corporate sponsor and endorsed partner of Solvent Networks, launched a supply chain resilience solution with One Network, evolving the way we manage performance of the healthcare supply chain. Vizient members and supplier partners on the platform help support transparency across the healthcare value chain. As providers make plans to ramp elective surgeries, it will be critical to orchestrate increased supply demand with suppliers. Vizient's resilience solution allows for order and demand forecast collaboration aiding providers to express what demand they'll need ahead of placing orders. This will better position distributors and manufacturers to plan for those demand surges. This is being offer at NO CHARGE to suppliers and members through July 20. To learn more about the solution, email resilience@vizientinc.com
Resumption of Surgical Services
In the midst of the COVID-19 crisis, we know our hospitals are strategizing to resume and maximize surgical services capacity as soon as possible. Qualivis, SCHA corporate sponsor and endorsed partner of Solvent Networks, can quickly help supplement OR staff through their streamlined process allowing for immediate impact.
Qualivis can work with you to proactively plan service resumption and offer creative staffing solutions designed specifically for the post-crisis environment. Qualivis' approach can help you:
• Quickly recover deferred revenue
• Achieve financial objectives
• Prevent market share leakage
• Maintain physician relations
• Increase scheduling capacity
Qualivis' unique pod approach will streamline the resumption of your surgical services. Clinicians orient the same day, start the same day and work flexible contracts to meet fluctuations in patient demand. Qualivis' accountable staffing partners have access to millions of clinicians, ensuring they can staff all of your surgical services quickly and efficiently including:
• Nursing
• Allied and Surgical Support
• Locum Tenens
• Ancillary Services
Let Qualivis help you make the transition easy. For more information, email Sherry Kolb.
Contact Solvent Networks to set up a meeting with any of our endorsed partners and put their solutions to work for your facility. We're here for the health of your business.