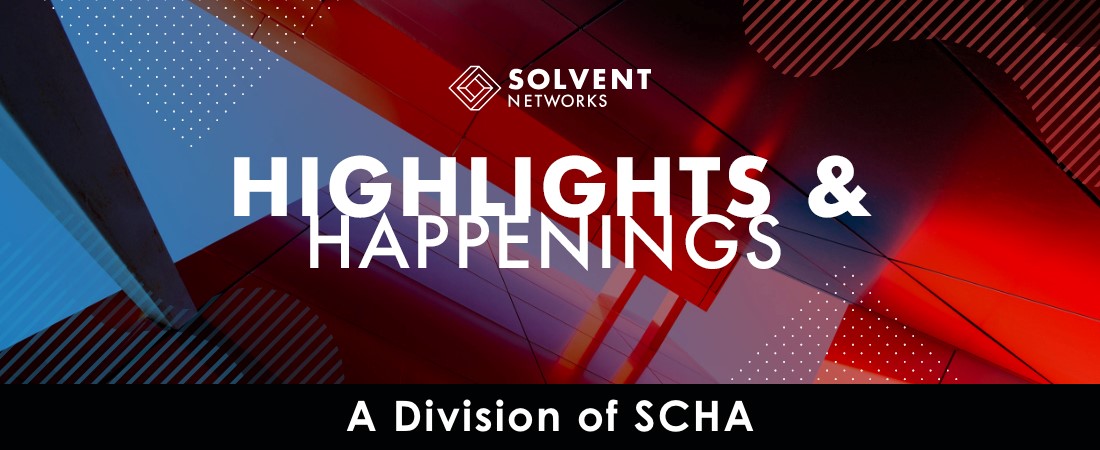 As a division of SCHA, our mission is to serve members by providing solutions to "pain points," those day-to-day operational problems and challenges that come with running a top-quality healthcare facility.  Our goal is to be the top-of-mind, first-call resource for healthcare leaders looking for ways to ease their pain.  For more information, visit Solvent Networks, follow us on Linked In or watch our video HERE!  Please also continue to monitor SCHA's COVID-19 webpage for the latest updates.
Cedar Gate Technologies Acquires Citra Health Solutions
Cedar Gate, an endorsed partner of Solvent Networks and leading value-based care performance management company, has been looking for a partner to boost their capitation administration services.  They announced just last week that Citra Health Solutions was that perfect partner who shared the same passion in helping hospitals and health systems transition away from fee-for-service to value-based-care.  With Cedar Gate's proven analytics and bundles capabilities and now capitation management solutions through Citra's EZ Suite, they now offer an end-to-end platform for the value-based continuum.  Read more HERE.
Staffing for COVID-19 and Recovering After the Curve
As the endorsed staffing partner of Solvent Networks, Qualivis can help with your entire contingent workforce needs. From crisis response and crisis planning to re-staffing your operating rooms and overall recovery after the peak of COVID-19, they're here to support South Carolina hospitals.
As the curve shifts, having an emergency staffing plan is still imperative. However, it is also vital to plan beyond the immediate future. Qualivis understands that furloughed employees come first, and re-stabilizing financials is crucial to your organization.
They staff all temporary clinical positions – from CNAs, LPNs, Allied / Techs and Respiratory Therapists to RNs, Nurse Practitioners, CRNAs, Physician Assistants and Physicians. Qualivis works with clinics, rural hospitals, large acute care health systems, behavioral health facilities, hospice, home health and state departments of health.
Working with Qualivis is easy. They offer hospital-friendly terms that allow any length of assignment, crisis response quick-starts that guarantee your needs are filled fast with no volume commitment or annual fee. Qualivis can also be used as a back-up contract if your facility has an MSP contract with another vendor. If you're having trouble with staffing current needs, costs, time-to-fill, communication or the quality of clinicians, Qualivis can be a resource to fill your needs while ensuring you are not in breach with your current provider.
For more information or to  review service lines, please feel free to contact your current Qualivis account manager or Sherry Kolb, RN, President, Qualivis (803.744.3515) or Kristin Hill, Manager of Business Development, Solvent Networks (803.454.6959).
The Collective Perspective
As we move towards a post-pandemic world, care teams are focusing on behavioral health, social determinants of health, improving care transitions, and more.
A Second Wave: The Unseen Pandemic Facing America Now
"The COVID-19 pandemic has caused a tidal wave of behavioral health problems for many of our most vulnerable patient populations that is continuing to grow even as pandemic peaks are starting to wane," according to Deborah Jean Parsons Ph.D. in a recent Becker's Hospital Review article.  Read more HERE.
COVID-19 and Healthcare Post-Pandemic
Collective Medical is collaborating with Community Based Coordination Solutions on a monthly podcast series addressing social determinants of health and other issues.  Listen to the first episode, focused on healthcare after COVID-19.  Listen HERE.
Improving Transitions of Care While Reducing Administrative Burden
Patients with complex care needs can find it challenging to go to a provider's office for healthcare.  Providing services right in a patient's home can provide needed support, yet requires successfully managing care transitions, meeting regulatory requirements, and careful care coordination.  Read more HERE.
Lesson Learned: Addressing the Pandemic Through Care Collaboration
On May 20, 2020, HealthLeaders presented a webinar featuring a roundtable discussion of some of the lessons learned from the COVID-19 pandemic. Speakers included Enrique Enguidanos, MD, FACEP, MBA, Liz Whitworth, MPH, Jennifer D'Angelo, and Benjamin Zaniello, MD, MPH. Reach the highlights of the conversation and access a recording.  Watch it HERE.
Social Determinants of Health Amidst a Pandemic
Socioeconomic factors such as homelessness, food insecurity, or low income have a significant impact on health outcomes—an impact made only more severe by COVID-19. Learn more about supporting our nation's most vulnerable patients.  Learn more HERE.
Contact Solvent Networks to set up a meeting with any of our endorsed partners or SCHA corporate sponsors. We're here for the health of your business.