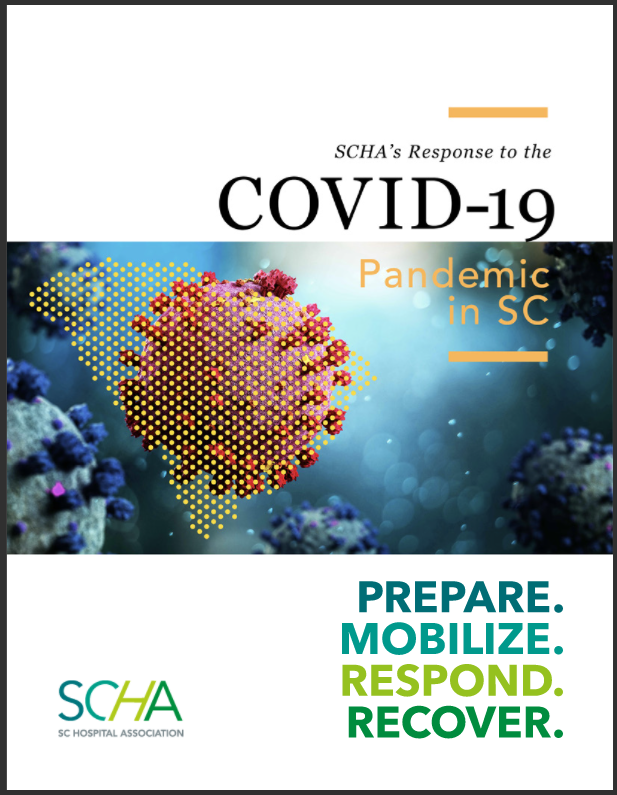 SCHA's response to COVID-19 is one for the books. Literally.
In the early days of the pandemic, SCHA decided to journal this unprecedented experience to document our collective work, identify lessons learned, and provide a record for future emergency planning. Solvent Networks volunteered to take on the project.
Like the pandemic, the journal grew in scope and size. It has just been published as a book entitled Prepare, Mobilize, Respond, Recover: SCHA's Response to the COVID-19 Pandemic in South Carolina. The book was written, designed and published by Solvent Brandworks, our in-house communications and marketing consulting group.
The book covers a broad range of issues created or worsened by the pandemic, from workforce shortages and supply chain glitches to the planning logistics of massive testing and vaccination events. It includes a chronological timeline of key national and state events starting with the nation's first confirmed case on January 20, 2020, through the end of December 2021.
A limited number of hard copies are being distributed to hospital and state leaders. But we believe the story is relevant to everyone who has been part of the state's pandemic experience, so a digital version is available at scha.org/covidjournal.
Dedication: This book is dedicated, first and foremost, to the healthcare workers and first responders who served on the front lines on the Covid-19 emergency, and secondly to the SCHA team that worked diligently to support them and the communities they serve.

As a division of the South Carolina Hospital Association, we understand the hospital business. Our ready-to-deploy solutions for your workforce, financial, operational and compliance needs can save money on your bottom line – or generate revenue that you can re-invest in improving healthcare for the people of South Carolina.  For more information, visit Solvent Networks, follow us on Linked In or watch HERE.  Access your network today.