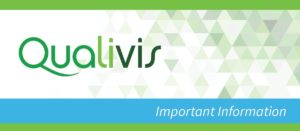 When a public health crisis or natural disaster strikes, increased demand may overwhelm your facilities' staff. While every hospital has an emergency plan, we highly encourage hospitals in our association fold to update their plans to include contacting Qualivis for supplemental staffing needs during emergencies. When rapid response staffing is essential to meet healthcare demands, facilities can count on Qualivis.
How to initiate Qualivis' Rapid Response Staffing
If a facility needs rapid response staffing, it's simple. They can let their state association rep or Qualivis account specialist know, and we'll take it from there to ensure needs are met as quickly as possible.
How Qualivis helps facilities when disaster strikes
• Easy access to a nationwide network of healthcare staffing agencies to simplify and speed the search process, so they can focus on providing patient care.
• Find fully credentialed staff who can be onsite within seven days (or sooner during a state of emergency) of a confirmed assignment offer for rapid-response staff.
• Spend less time managing contracts, fielding sales calls and playing phone tag so you can focus on patient care.
How Qualivis partnered with the North Carolina Hospital Association during Hurricane Florence
Several NCHA members experienced the Qualivis' rapid response service during Hurricane Florence. Qualivis helped to quickly deploy 52 travelers to support staff overwhelmed by the storm at the following facilities:
• New Hanover Regional Medical Center
• New Hanover Regional Medical Center Orthopedic Hospital
• Onslow Memorial Hospital
• Pender Memorial Hospital
• Sampson Regional Medical Center