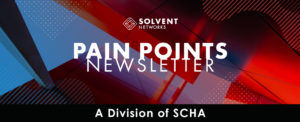 Welcome to "Pain Points," an e-newsletter from Solvent Networks intended to discuss the problems that keep hospital leaders up at night and inform them about programs, services and products offered by our partner companies that can help. Every two weeks, we tackle one pain point and present a ready-to-deploy Solvent Networks solution.
PAIN POINT
Recruiting in an era of shortages and limited budgets.
SOLUTION
Use the nation's most cost-effective recruiting tool.
The nation's most cost-effective healthcare recruiting tool, HospitalCareers.com, allows you to post an unlimited number of job openings, benefit from national digital marketing and have candidates routed directly into your applicant-tracking system, all for one annual fee that is tiered to a hospital's size. And starting in mid-January, they'll be adding optional digital tools to make your recruitment even more targeted and effective.
One hospital that joined recently estimates the cost per hire to be $130. That's compared to a national average of more than $4,000, according to the Society of Human Resource Management.
Started by 20 hospital associations, including SCHA, HospitalCareers.com now helps hospitals and health systems in 34 states find nurses, support staff, and other job prospects through a robust online platform that lets job-seekers and employers find each other. Each participating hospital has its own branded landing page that can include information about your facility, promotional videos, links to social accounts or employee testimonials.
"Eighty percent of job seekers begin with search engines, and 30 percent of all Google searches are job related," said Brian Bauer, strategic director. "We use search engine marketing strategies, such as purchasing key words used in searches, to help you get in front of that audience. And we produce a lot of content for job-seekers (i.e., articles on job trends, interview tips or resume guides) that helps generate organic website visibility."
Jobs are also distributed automatically across thousands of sites from job search boards to national news media to social media.
During a recent Thought Partner webinar, Bauer outlined plans for new technology options coming in mid-January that will allow clients to access full ATS/CRM capability, AI matching for candidates and employers, AI sourcing across the entire web, featured job postings, featured employer postings, and geo-targeting/geo-fencing. Employers could draw a virtual circle for 50 miles around their facility, and content would be fed to any relevant prospect, such as a nurse, who enters that fence.
"This allows you to reach passive candidates who aren't looking for a job," he said. "Often the best candidates are the ones who are satisfied with their jobs and aren't looking for a change."
Contact us for more information, or watch the webinar on demand in our newsroom.