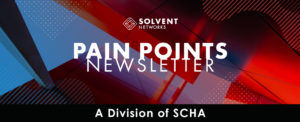 Welcome to "Pain Points," an e-newsletter from Solvent Networks intended to discuss the problems that keep hospital leaders up at night and inform them about programs, services and products offered by our partner companies that can help. Every two weeks, we tackle one pain point and present a ready-to-deploy Solvent Networks solution.
PAIN POINT
How can we reduce burnout with our staff?
SOLUTION
Ask MUSC, Prisma Health and other experts at the November 14 Working Well Annual Meeting.
MUSC Associate Professor of Nursing Teresa Stephens learned about burnout when she left her first job as a new nurse because of high stress, long hours and critical co-workers. But the experience also helped her make a life-changing decision.
"I made myself a promise that if I ever had a chance to make a difference and make it better for other nurses, that's what I would do," she said. That was almost 33 years ago. After many years in practice, she recognized the need for research on this topic, leading her to pursue a PhD and develop a conceptual model of resilience. That's why SCHA's Working Well team recruited her for a new program called Thriving Workforce.
More than half of the current healthcare workforce reports high burnout rates and low job satisfaction, according to Jen Wright, the Working Well program director who is spearheading the new initiative. Working Well's annual meeting, Nov. 14 at SCHA, will focus on personal resilience, workflow efficiency and a culture of wellbeing to build a thriving workforce, with Stephens as featured speaker on the topic of resilience.
Other speakers include Dr. Rachel Brown, Prisma Health's Medical Director of Health and Wellness, Dr. Hyung Nam Kim, human factors engineer at N.C. State, and Jordana Renee Harshman, wellness manager at Stanford University and Stanford Children's Health.
"About 60 percent of newly graduated nurses were leaving their first job within two years," Stephens said. "I decided to focus on the 40 percent who stayed. Why were they different? They were repeatedly described as 'resilient.' I wanted to know what that meant and, more importantly, if it could be taught and learned."
By working with Holocaust survivors, Stephens began to understand and document how resilient people think, process stress and grow from adversity. At the upcoming Working Well conference, Stephens will share her findings and processes for developing personal resilience and resilient work teams.
The conference is free for Working Well members, $25 for non-members. Registration is now open.
The Thriving Workforce program is funded by a grant from The Duke Endowment. For other workforce tools and resources, visit the SCHA website.