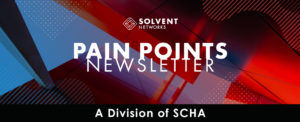 Welcome to "Pain Points," an e-newsletter from Solvent Networks intended to discuss the problems that keep hospital leaders up at night and inform them about programs, services and products offered by our partner companies that can help. Every two weeks, we tackle one pain point and present a ready-to-deploy Solvent Networks solution.
PAIN POINT
Pain Point: Finding reliable data about workforce turnover.
SOLUTION
A new Workforce Intelligence Report from SCHA and Solvent Networks.
We know that recruiting and retaining outstanding staff is one of your greatest Pain Points, and we know you need good data to help you understand and address the issue. That's why SCHA and Solvent Networks have collaborated to produce a new Workforce Intelligence Report to give you a quick overview of vacancy and turnover rates among positions identified as top priorities for retention.
Much of the data included in the report comes from the annual compensation and benefits survey offered to members jointly with SCHA and the SC Healthcare Human Resources Association (SCHHRA), the professional membership group for HR professionals. Additional data come from the health licensure data housed at the SC Office of Revenue and Fiscal Affairs.
The Intelligence Report is part of a new campaign launched by SCHA and Solvent Networks to support workforce needs of S.C. hospitals. It's one of a series of reports, programs, tools and endorsed partnerships aimed at building the pipeline of tomorrow's healthcare workforce, helping the recruiting and hiring process, investing in current workforce, and enhancing the safety and quality of the workplace.
Our goal is to help you have a healthy workforce, healthy workplace and healthy business. For more information on other workforce related service or partners, visit www.SolventNetworks.com.