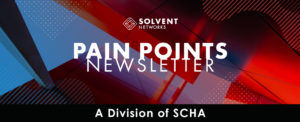 PAIN POINT
Our backlog of paper files is overwhelming and growing.
SOLUTION
AIS can quickly and securely help you catch up.
Ten years ago, the Mecklenburg (NC) Department of Social Services launched an initiative to digitize their paper files to increase document security and save money, time and space. But lacking funds for high-speed scanning equipment, staff couldn't make a dent in the backlog while also handling thousands of new files coming in each month.
DSS turned to Advanced Imaging Systems (AIS) for help. AIS is a Solvent Networks endorsed partner that provides tailored data management solutions.
In the Mecklenburg case, the AIS solution:
• Decreased document processing time from two weeks to 24 hours;
• Allowed DSS to redirect $322,455 in annual labor costs to client services and save $71,236 in annual labor and paper costs;
• Freed up more than 1,200 square feet of storage space for conversion to office space;
• Improved security of documents and data.
You can read the full case study here.
Visit the Solvent Networks website to learn more about AIS and contact the team at Solvent to initiate a conversation to see how AIS can help cure your data management pain points.