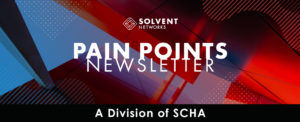 PAIN POINT
Hurricane season has begun, and we need to prepare.
SOLUTION
SCHA and Solvent Networks can offer both guidance and assistance.
With the first hurricane of the 2019 season named and tracked last week, it's that time of year where we all need to start preparing our own facilities. S.C. hospital leaders remember 2018's Hurricanes Florence and Michael all too well, and they know that the time to prepare is now, not when a storm is heading our way. Both SCHA and Solvent Networks are here to help.
As part of our member services, SCHA offers the guidance and expertise of John Williams, SCHA's director of emergency preparedness, to help you with what you should be doing now, even with no hurricane currently on the horizon for South Carolina. You can learn more about his recommendations and his Hurricane Preparedness Checklist here.
In that same spirit, you can also learn more about the logistical lessons that Tidelands Health learned during the 2018 Hurricane Season here.
A Solvent Networks Solution
As for what Solvent Networks can do for hospitals in times of hurricane crisis, we point you directly to our endorsed partner Qualivis, a key solution for critical and rapid response staffing.
When a public health crisis or natural disaster strikes, your staff can become overwhelmed by the increased demand. If critical or rapid-response staffing is needed to meet healthcare demands, count on Qualivis. Several North Carolina Healthcare Association members experienced the Qualivis rapid-response service during Hurricane Florence. Qualivis helped to quickly deploy 52 travelers to support staff overwhelmed by the storm.
To utilize rapid response staffing, facilities can either let Solvent Networks or their Qualivis account specialist know, and they'll take it from there to ensure needs are met as quickly as possible.
How can Qualivis help facilities when disaster strikes?
1. Easy access to a nationwide network of healthcare staffing agencies to simplify and speed the search process, so you can focus on providing patient care.
2. Fully credentialed staff who can be onsite within seven days (or sooner during a state of emergency) of a confirmed assignment offer for rapid-response and two weeks for critical staff.
3. Less time managing contracts, fielding sales calls and playing phone tag – again, all so that your focus can remain on patient care.
To learn more about Qualivis and other ways we can help cure your pain points, visit SolventNetworks.com.