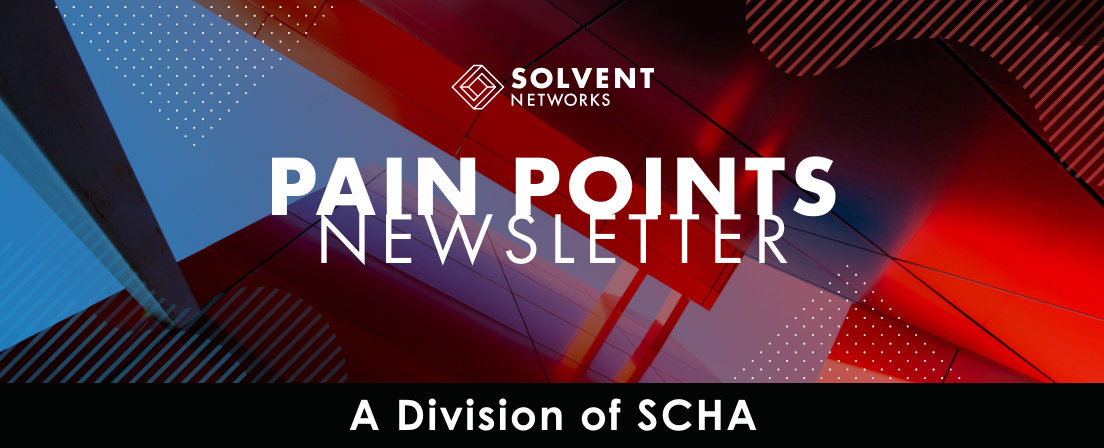 Welcome to "Pain Points," an e-newsletter from Solvent Networks intended to discuss the problems that keep hospital leaders up at night and inform them about programs, services and products offered by our partner companies that can help. Every month, we tackle pain points and present a ready-to-deploy Solvent Networks solution.
PAIN POINT
Our paper backlog is a nightmare.
SOLUTION
Advanced Imaging Systems can help you regain control of your records.
As the Medical University of South Carolina hospital's number of facilities and patient population grew, so did its workforce, eventually creating a huge backlog of paper human resources files. Thousands of documents on active and inactive employees, many well beyond their required retention dates, created headaches for the people charged with records management.
Just ask Kim Duncan, MUSC's current payroll services manager who previously served as manager of HR operations. Although the HR staff could manage scanning new records, they did not have the manpower to digitize the huge backlog of paper documents that had accumulated over time and through facility acquisitions. They turned to Advanced Imaging Systems (AIS) for help.
With more than 20 years of experience in document management, AIS had the resources and expertise MUSC needed to turn what would've been an enormous task for staff into a roughly two-month project.
We've worked with thousands of hospitals to secure millions of medical records, including HR files, patient records, credentials and other mission-critical documents. We've helped hospitals become paperless so that they can improve the patient experience, gain staff efficiencies and mitigate risk. 
Matt Solomon, CEO, Advanced Imaging Systems
Bulk digital scanning is one of numerous services offered by AIS, either on-site or in their high-security facility. They can also scan microfilm and microfiche so that all records are searchable in the same digital format.
"We touch every page of every record, tag each file and determine what can be shredded securely and what needs to be scanned, and we create a complete disposition manifest," said AIS Account Manager Richard Outz. "That creates documentation needed for HIPAA compliance and assures the client every record is accounted for and tracked throughout the process." AIS prides itself on having meticulous staff members who are incentivized to provide 100 percent accuracy.
At the end of the process, files are accessible to anyone who has the user rights from their desktop. Document retrieval time drops from days to seconds, and there is no need to worry about a document getting misplaced or misfiled. And in a disaster, the backed-up files can be recreated. Today, MUSC's former storage room houses five cubicles for staff members.
To take a video tour of the AIS facility, watch this Thought Partner webinar or visit them on the web. To set up a meeting, contact Solvent Networks.
CLICK HERE for the SN: Case Study